Counter terrorism and community safety centre
Date: 24/09/2020
We're building the Counter Terrorism and Community Safety Centre on the Wacol Police Complex in Brisbane. The centre will be called the Bob Atkinson Operational Capabilities Centre to recognise the distinguished career of former Police Commissioner Bob Atkinson.
Why we're building a new centre
The centre will be used by the Queensland Police Service (QPS) for training in operational skills and tactics to better manage terrorism and other critical incidents.
From time to time it will also be used by the:
Australian Defence Force
Australian Federal Police
Queensland Ambulance Service
Queensland Fire and Emergency Services.
Benefits of the new centre
It's expected that all recruits and most police officers will conduct their yearly training at the new centre.
The new centre will enable police to:
complete their operational skills and training re-qualifications in one location
return to their duties much sooner after training as the centre will be within 100km of 70% of officers in Queensland
train at any time of the day or night and in any weather in the firearms and simunition training facilities.
First-response officers will also be able to practice in purpose-built facilities to deal with emerging trends such as active-shooter incidents.
Facilities at the new centre
The new training centre will include a:
life-like scenario village
firearms-training facility
multi-function training facility.
The project also includes refurbishing the heritage-listed Jacaranda House to provide workplace accommodation, training facilities and carparking. This refurbishment has been completed.
Who is involved
The Public Safety Business Agency is managing the delivery of the Counter Terrorism and Community Safety Centre on behalf of QPS in collaboration with the Department of Housing and Public Works.​

The project team will engage with key stakeholders during planning and construction to ensure the Counter Terrorism and Community Safety Centre meets the needs of the Queensland Police Service in countering terrorism and enhancing public safety now and into the future.
Project timelines and updates
The project will run from November 2017 to late 2020.
Future dates can change because of weather events, unknown site conditions and other unexpected factors.
Workplace accommodation and car parking timeline
November 2017—PDT Architects appointed as the principal consultant/architect
February 2018—Construction tender for the refurbishment works called
June 2018—Paynter Dixon Queensland appointed as head contractor
July 2018—Refurbishment works started
Early 2019—Refurbishment works and associated car parking reached practical completion.
Main training facility timeline
January 2018—GHD appointed as principal consultant
October to December 2018—Construction tender called
March 2019—FK Gardner and Sons Pty Ltd appointed as head contractor
July 2019—Early site works started
September 2019—Main construction works started
Late 2020—Construction works to reach practical completion.
Media statements
Supply and employment opportunities
Engaging local industry and generating jobs are key objectives for the Queensland Government.
The awarded head contractors were given a list of suitable businesses that registered an expression of interest (EOI) for the works packages through the Industry Capability Network (ICN) Gateway.
Suppliers/businesses please note: the responsibility for tendering and awarding suppliers for works was transferred to the head contractors and will not be the responsibility of the department.
Opportunities for local businesses
The Queensland Government is committed to giving Queensland suppliers full, fair and reasonable access to tender opportunities arising from the construction of the Counter Terrorism and Community Safety Centre.
The head contractors:
will work to support local industries by creating tendering opportunities for subcontractors
will source suppliers in line with the Queensland Government's Charter for Local Content
may use local content specialists such as ICN Queensland.
Budget and funding of the project
When the project's business case was developed in 2017, $52.8 million was committed by the Queensland Government. This included project funding held in reserve by Queensland Treasury to be requested and authorised for release as the project progressed. The budget for this project is currently approved by Queensland Treasury at $52.2 million as it proceeds into the final design phase.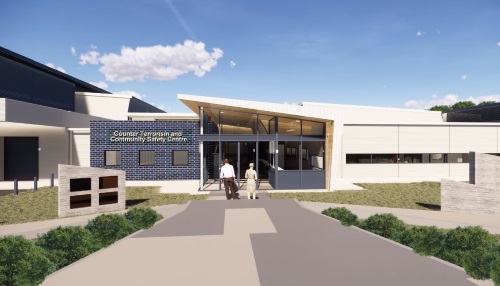 Counter Terrorism and Community Safety Centre entrance​​​
Last updated:

29 November 2019