Minister's Award for Urban Design
Date: 23/02/2020
The Minister's Award for Urban Design recognises contemporary Queensland urban design projects of the highest quality. It encourages cities, towns and communities across Queensland to strive for best practice in all projects. The award highlights:
the critical role of good urban design in shaping Queensland
how collaborative relationships can lead to the successful development of the built environment.
Nominations for the 2020 Minister's Awards for Urban Design will open in early 2020.
2019 Minister's Award for Urban Design
In 2019, 15 nominations were received for the Minister's Award for Urban Design. Ranging from city-wide thinking to fine-grain placemaking outcomes at a neighbourhood level, the nominations reflect a state-wide commitment to good design outcomes within the built environment.
This year the jury has recommended 1 award and 2 commendations for projects that:
challenge the status quo
demonstrate leadership and design excellence
will leave lasting, sustainable legacies for the broader community, albeit at varying scales.
Winner
Project: Main Street Barcaldine
Location: Barcaldine
Team: m3architecture and Brian Hooper Architect (architects in association) with Barcaldine Regional Council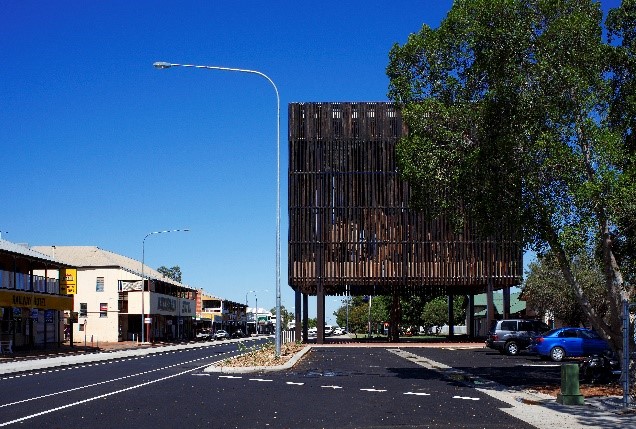 Image Credit: Jon Linkins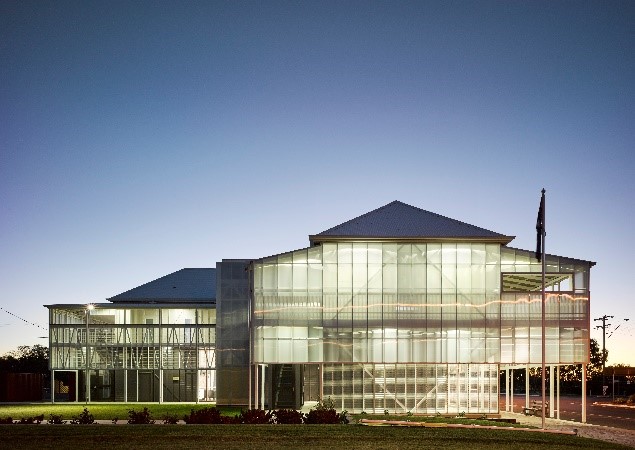 Image Credit: Christopher Frederick Jones
The Main Street of Barcaldine is an exemplar project. This targeted investment in high-quality urban design values the distinctive qualities of place and has delivered an exceptional and revitalised main street in a small country town setting. The scheme has cleverly reinvigorated the main high street. It works with the existing built fabric of the town to create a successful tourist destination that reflects Barcaldine's rich social, built and cultural history.
At one end it's anchored by the Tree of Knowledge Memorial and at the other by The Globe Hotel. Combining these cultural and tourism attractions with a narrowing and slowing of the highway has successfully created a high-quality experience for locals and tourists.
Relocating car parking away from the Tree of Knowledge Memorial is a key strategic move. It prioritises pedestrians who can now engage more closely with the memorial and the town's broader heritage setting. The success of Main Street Barcaldine demonstrates the ability of urban design to support broader economic activity. Both the Tree of Knowledge Memorial and The Globe hotel represent exceptional built-form outcomes that are inspiring and visionary.
Main Street Barcaldine is an excellent example for regional Queensland towns who are looking to re-imagine their main streets to create unique and enduring legacies for their communities and visitors through adaptive re-use of their historic buildings and high-quality urban design.
Commendations
Project: Oxley Creek Transformation Master Plan
Location: Graceville to Larapinta, Brisbane
Team: Lat27 and Oxley Creek Transformation Pty Ltd in association with DesignFlow, Hydrobiology, Jacobs and Deloitte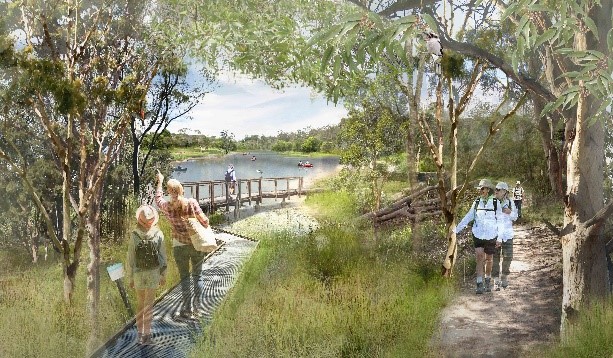 Image Credit: Lat27
The Oxley Creek Transformation Master Plan is an important and ambitious vision. It is set to revitalise approximately 20km of the Oxley Creek corridor into a leading greenspace, lifestyle, and leisure destination with a focus on sustainability.
The project is facilitated by Oxley Creek Transformation Pty Ltd as a wholly-owned subsidiary of Brisbane City Council.
The project:
establishes a comprehensive framework for the long-term revitalisation of a major regional waterway
creates a significant new recreation asset
enhances essential biodiversity values, natural waterway processes and regional habitat corridors.
The jury recognises:
the important role these urban creek corridors play to provide much-needed environmental and recreational assets for our expanding city
that these spaces provide a 'natural sanctuary' or 'area of respite' that can re-energise the physical and mental wellbeing of its residents.
The jury noted the innovative governance model that is likely to set a new benchmark for revitalising, managing and maintaining urban waterways. Oxley Creek Transformation is led by a Board of Directors, supported by Brisbane City Council and delivered through multiple community, commercial and governmental partnerships. The jury commends the project for:
leading by example
establishing a culture of collaboration
valuing design excellence.
The jury eagerly awaits the transition of this exciting and bold vision into a world-class asset for Brisbane.
Joint Projects: Gold Coast Building Height Study—an approach to city image together with Gold Coast Urban Ground Project
Location: Gold Coast
Team: City of Gold Coast with Urbis and City of Gold Coast with Archipelago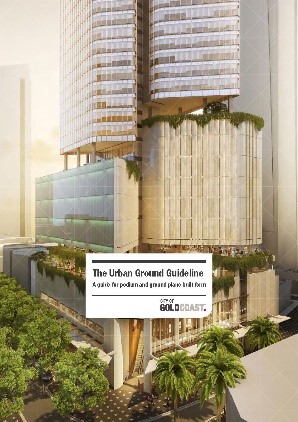 Image: Archipelago with City of Gold Coast
The Gold Coast Building Height Study—An Approach to City Image and the Urban Ground Guideline together offer a compelling and rigorous suite of documents to guide the City of Gold Coast's future urban form. The documents:
provide a framework for assessing the distribution of building height
encourages best-practice design for medium-rise and high-rise development.
The jury recognised the value of these complementary yet separate projects and commends the City of Gold Coast for undertaking such visionary city-shaping documents in a collaborative and multidisciplinary manner. It was acknowledged that these documents set a benchmark for other councils across Queensland experiencing rapid growth and urbanisation. The jury encourages council to maintain this ongoing commitment to design excellence and to continue to encourage high-quality urban design outcomes that provide significant health, well-being and economic benefits to the city.
Other recognised projects
The jury also recognised the following projects for their vision and success:
Westfield Chermside Outdoor Leisure and Entertainment Precinct—a project that reinterprets and inverts the modern internal-facing shopping centre into a contemporary outdoor precinct while embracing subtropical urban design.
Logan City Council's Wembley Road Shared Pathway link—a new critical link that connects key civic and park spaces to the Woodridge railway station. This new spine was the result of a hard-fought design-led process across multiple state agencies, the local community and council.
Yeppoon Foreshore and Town Centre Revitalisation Project—centred around the Yeppoon Lagoon pool, this exciting foreshore revitalisation has activated the southern end of the Yeppoon Town Centre. It highlights that quality urban design positively influences our daily lives and provides complimentary economic benefits to the town.
The jury encourages entrants to consider resubmitting unbuilt projects when they are substantially complete.
2018 Awards and Commendations
Awards
Fish Lane, South Brisbane- Aria Property Group with Brisbane City Council
Parklands, Gold Coast- AAA (Arkhefield, ARM and Archipelago) and Lat27 with Grocon
Commendations
Big Plans for Small Creek: Small Creek Naturalisation Ipswich Landscapology and Bligh Tanner with Ipswich City Council
St Lucia Campus Master Plan St Lucia, Brisbane Urbis with University of Queensland
Rockhampton Riverside and CBD Redevelopment Rockhampton Urbis with Rockhampton City Council
2017 Awards and Commendations
Awards
Beenleigh Town Square Project, Logan- Logan City Council, AECOM, MRCagney and Wilson Architects
Commendations
Brisbane Showgrounds – Public Realm Overlay, Brisbane- RNA and Lendlease with Lat27
Kwong Sang Walk Laneway Creation, Toowoomba- Toowoomba Regional Council
Gold Coast Landscape Character Study, Gold Coast - City of Gold Coast with Cardno, Catherine Brouwer and Michael Aird
Last updated:

29 November 2019