Design of the new North Queensland Stadium
Date: 21/09/2020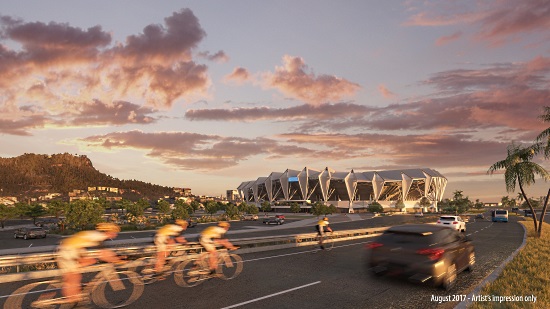 Artist's impression of stadium exterior​
The new stadium was designed for, and inspired by, North Queensland.
It will feature a horseshoe-shaped, cantilever roof inspired by the pandanus plant. While providing an elegant expression of the building, the roof will shade about 75% of the seats, with generous overhangs over the concourse and main entry.
In place of traditional trusses, folded plates achieve the roof's 'pandanus' geometry. The folded plates provide:
strength to resist cyclonic wind loads
flexibility to allow the roof to expand and contract with tropical temperature fluctuation.
The stadium's horseshoe-shaped design faces north to catch the breezes and allow panoramic views to the city, Castle Hill and Magnetic Island.
View a stadium design sketch (PDF, 516KB) showing main stadium structure, upper stadium bowl and roof with key features such as scoreboard and merchandise stands.
Seating capacity
The North Queensland Stadium has a 25,000-seat capacity—7000 more seats than the current 1300SMILES Stadium. It can also accommodate up to 40,000 patrons in concert mode. The stadium design allows the option to expand to 30,000 seats in future.
Design features
Plazas and green spaces
The stadium will feature large plazas and landscaped green spaces. The grassed northern parkland and plaza will form part of the northern entry and provide a space for friends and family to meet before entering the stadium.
Food-and-beverage outlets
The stadium boasts 29 permanent general admission food and beverage outlets with options to bump in more for special events.
Corporate and function venues
The stadium caters for a variety of groups and private social events with:
88 external corporate boxes
17 corporate suites, some of which can be combined to accommodate larger groups
a premium club and 3 corporate experience bars and club lounges
2 major function rooms that can cater for up to 200 people when combined.
Behind-the-scenes facilities
Athletes and performers can look forward to:
4 player change rooms with dedicated wet areas, spa baths, warm-up areas, medical room and massage room
flexible spaces e.g. green rooms, event management and dressing rooms.
Other design features
Other design features include:
standing terraces with views to the field of play
a 9-metre-wide concourse where patrons can walk the full 600-metres around the stadium and enjoy views to the field of play
sports lighting in the roof instead of light towers.
Water and energy efficiency
Water and energy use was a key consideration in stadium design decisions. For example, the stadium's design features:
500,000 litres of storage for rainwater
potable water-use minimisation.
Townsville City Council are working to connect the stadium to the recycled water network to help water the football pitch and landscaping.
Last updated:

29 November 2019