Central Queensland Renewable Energy Zones
Date: 29/11/2023
The Central Queensland region spans from Moranbah in the north to Bundaberg in the south, and west past Emerald. The region has a diverse and growing economy, strongly placed to capitalise on the energy transformation with a growing interest from the hydrogen sector. With more renewables, key regional industries including agriculture, construction, minerals processing and manufacturing will be supported to grow and decarbonise.
Renewable Energy Zones (REZs) help to coordinate development in areas of high renewable potential, maximising benefits for regional communities. Working with Powerlink, we have identified four potential REZs in Central Queensland region.
These REZs will help attract investment to the right areas in Central Queensland. Up to 8,200 megawatts (MW) of expected new renewable generation will be installed in REZs. Projects within these REZs are expected to be connected incrementally, meaning workers will have sustainable employment opportunities across multiple projects over a number of years.
Powerlink opened the interim Gladstone SuperGrid Training Centre and Transmission Hub earlier in 2023, which provides workers the critical skills needed in Queensland's energy transformation.
Read more on Central Queensland's Renewable Energy Zones in the draft 2023 Queensland Renewable Energy Zone Roadmap (PDF, 6.1MB).
Consultation on the draft 2023 Queensland Renewable Energy Zone Roadmap has closed.
Should you wish to provide comment towards the ongoing development of Queensland's Renewable Energy Transformation please email energyandjobsplan@epw.qld.gov.au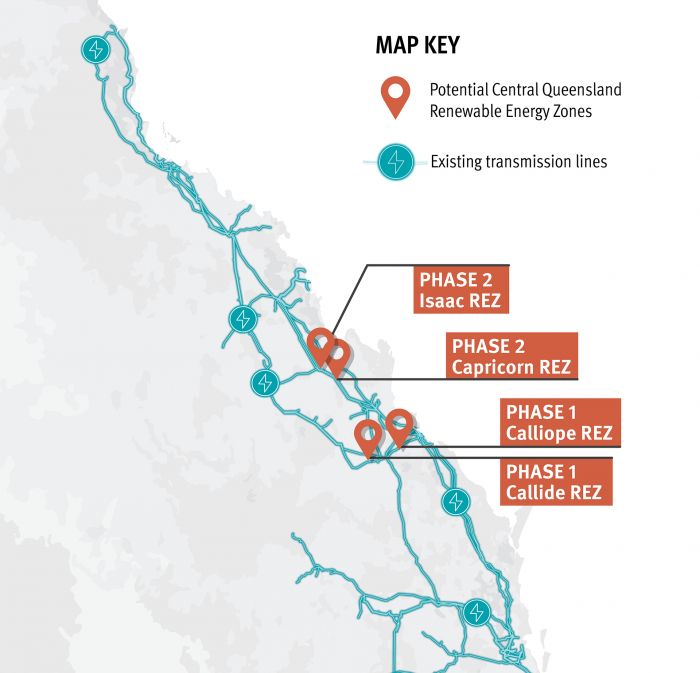 More information
Stay up to date
Subscribe for updates about the progress of Queensland's Renewable Energy Zones.
Last updated:

14 November 2023