2022 Brisbane Festival uses art to explore issues of housing – and loneliness
Last updated:

12 October 2022 10:46AM

First published:

23 September 2022 9:54AM
Date: 05/10/2023
Brisbane is alive with the drama and excitement of Brisbane Festival, with a renewed embrace of community celebrations following a period of pandemic isolation. The Queensland Government has proudly sponsored two key Brisbane Festival programs, so we sat down with Brisbane Festival Artistic Director Louise Bezzina to chat about the event program, and how art can further the conversation around homelessness.
The Queensland Government is a strong supporter of the creative arts. And, in a period of social uncertainty and some anxiety for the future following COVID-19, this support has never been more important. Art can communicate and further conversations around tricky topics in ways that other formats cannot. Theatre, performance art, music, and visual art can be useful tools to connect with audiences that may otherwise be unwilling to hear about a certain topic. With a total audience of 1.9 million visitors every year, Brisbane Festival provides an amazing opportunity to connect local audiences with issues of homelessness, community housing, and the people who call them home.
Earlier this year, to the Queensland Government pledged $400,000 to this year's Brisbane Festival. Specifically, the funds went towards two exciting event programs: the Nightwalks with Teenagers event, and the Brisbane Serenades program including Dance Halls.
Brisbane Festival x Queensland Government
Louise Bezzina is the Artistic Director of the 2022 Brisbane Festival and says that government funding is 'vital' to Brisbane Festival's success.
"Government funding provides the Festival with the ability to deliver free participatory arts experiences to audiences who would not normally engage with arts events and experiences," says Louise. "This is particularly evident in the strong response to this year's Dance Halls program which has seen local community stars engage in weeks of workshops leading to performances with professional artists, playing to ecstatic and appreciative full houses in community halls across eight suburbs."
Brisbane Festival delivers on the priorities of the Queensland Government's Creative Together 2020 – 2030 ten-year roadmap by activating Queensland places and spaces, driving social change, strengthening our communities, elevating First Nations art, sharing our stories and celebrating our storytellers.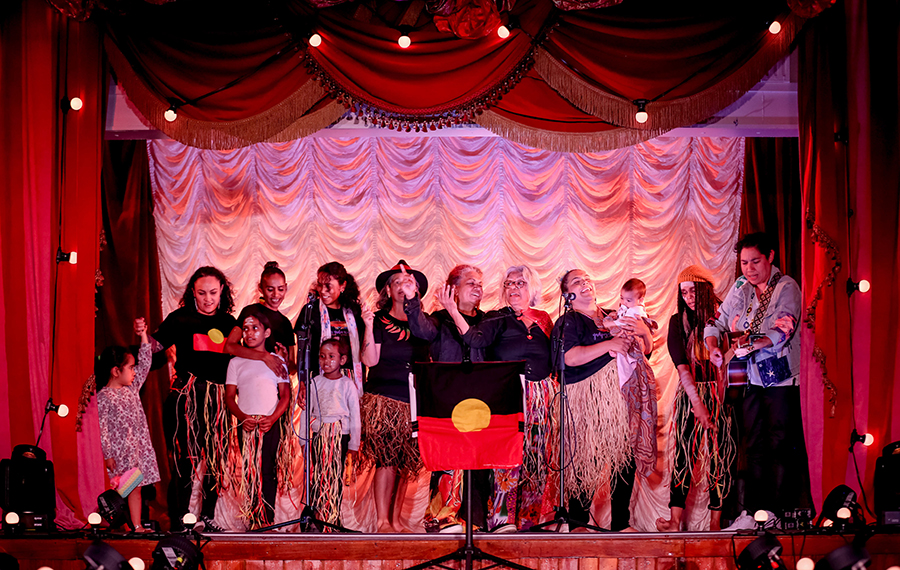 Singing a sweet song of community
The Brisbane Serenades encompasses seven mini-Festivals and eight targeted workshop programs throughout Brisbane. Together, they will culminate in concert performances in Queensland- Government funded neighbourhood and community centres from across the city.
Acclaimed performing arts company, 'Finucane and Smith' will work with community workshop attendees and community performers, taking them through a Dance Halls rehearsal process where they will weave community acts together with variety acts by professional artists into one extraordinary show. Dance Halls gives local community members the opportunity to perform on stage, learn new musical and drama skills, or simply be involved as an audience member and enjoy the work created.
"These Festivals have been curated to specifically respond to the cultural and demographic makeup of the selected suburbs with the aim to engage locals in arts participation," explained Louise. "It also provides an opportunity to connect diverse residents in these neighbourhoods with each other through highlighting the cultural practice of these different multicultural and social groups."
By hosting in suburbs with social housing, the hope is that those experiencing homelessness are provided a creative outlet, and maybe even help with the isolation that can accompany challenging times.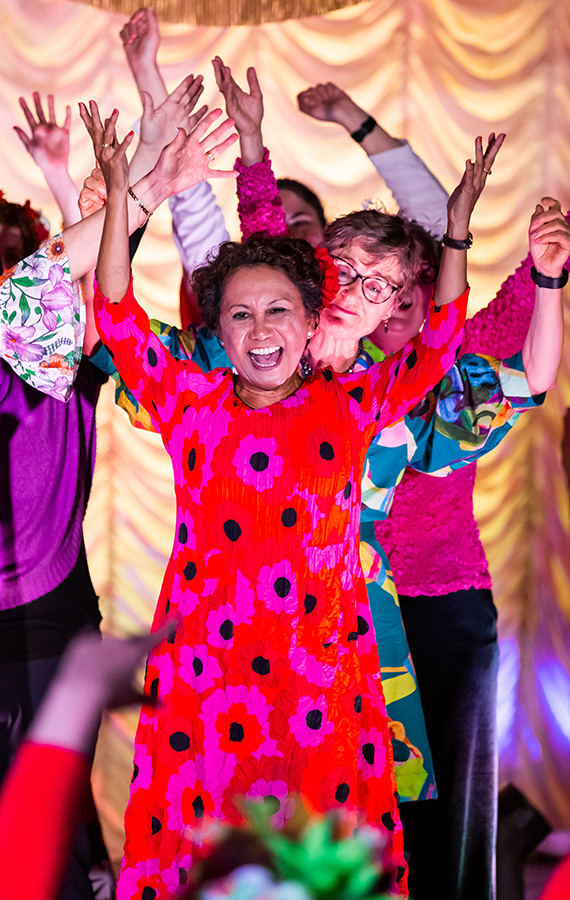 See Brisbane through the eyes of a homeless teen
Young Australians aged 12 – 24 make up 24% of our country's homeless population. Just like their adult counterparts, young kids can find themselves experiencing or at risk of homelessness due to family violence, drug or alcohol problems, mental health challenges, financial problems, or to escape unsafe home environments. But unlike their adult counterparts, they may not have the life experience to navigate a life on the streets or insecure housing.
The Nightwalks With Teenagers program asks the audience to go on a tour of Brisbane, hosted by teenagers. Working with key partners such as Common Ground and Micah Projects, the Inala Youth Service, and the Brisbane Youth Service , Nightwalks -shows the urban landscape through the eyes of young people at risk. In the chilly hours of night-time, experiencing the streets first-hand has hopefully encouraged a new level of empathy and understanding.
"Nightwalks with Teenagers offers us a unique opportunity to walk in another persons' shoes," says Louise from Brisbane Festival. "This project seeks to challenge stigma and negative perceptions of young people in public space. There have been profound outcomes from this program globally – so this company was chosen to be part of the Festival to deliver this special program as a result of their success in social impact work. The teenagers' point of view, a sense of belonging and resilience has been highlighted."
The tour was created and hosted entirely by the young people, with real-world stories told from teens seeking change.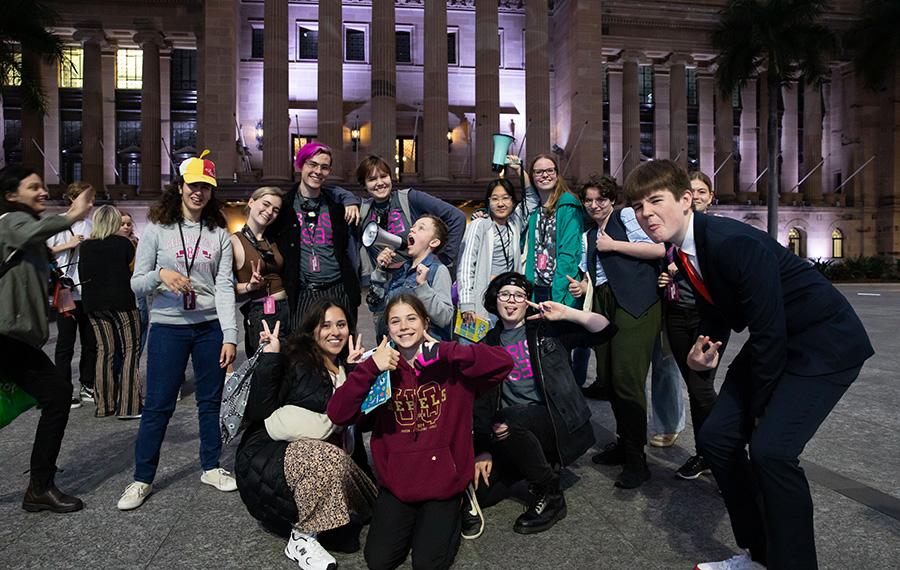 Post-pandemic salve for a battered Brisbane
Even if you don't consider yourself a creative person, we can all benefit through community art projects. We asked Louise Bezzina to explain what art achieves, that other learning programs cannot. Here's what she had to say:
"Much has been written about the reliance on art practice during the pandemic, from choirs forming on balconies to an increase in viewing of arts experiences on digital channels, through to people reconnecting with art forms they had practiced earlier in life," says Louise.
"Through history, artists have been the wayfinders – they help us navigate 'unsolveable' complexities and act as a unifying force. They are a force of optimism in challenging and trying times. Rather than resigning ourselves to inevitability, arts projects offer opportunities to dream and imagine different outcomes."
But further from imagination, this year's Brisbane Festival goes a long way to connect greater Brisbane with those in need – building a badly-needed bridge between communities.
"Artists help us connect across cultures and across generations," says Louise. "Taking on even the most challenging of topics, artists and arts projects drive understanding, acceptance and a profound optimism."
See the full Brisbane Festival 2022 Program.
Brisbane Festival 2022 will run until Saturday 24 September.