Disaster season is looming
Last updated:

14 November 2022 1:30PM

First published:

13 November 2022 6:20PM
Date: 05/10/2023
The Bureau of Meteorology (BOM) has advised Queenslanders that Spring and Summer 2022 could see increased rainfall and the potential for flooding. So, with wet season fast approaching, we've put together a list of the most important numbers you need to know. Print it out, stick it to the fridge, and get a safety plan in place with friends and family.
If your house has flooded
As the catch-cry goes, 'if it's flooded, forget it'. Heavy rain can cause flash flooding that can turn roads into rapids before you know it. Remember this when driving during wet conditions.
If your house has flooded, and you have been issued an evacuation order, then get to higher ground as soon as possible. Not sure what to do next? The Queensland Government has put together an easy checklist to guide you in times of emergency.
If you're living with a disability and need to evacuate
Being prepared for a disaster can save lives. People living with disabilities are twice as likely to be injured or find themselves socially isolated during natural disasters.
If you're at home and need to evacuate, call SES (32 500) or Triple Zero (000) immediately.
If you have had to evacuate and need temporary access to assistive technologies, supplies or services you had to leave behind, call the NDIS National Contact Centre (1800 800 110 and press 5).
If you're looking to create your own emergency plan, check out the guides created by Community Recovery, Queenslanders with Disability Network (QDN), Community Services Industry Alliance (CSIA) and The University of Sydney.
If you are unable to evacuate
If you're stuck in place due to flooding, call the State Emergency Service (SES). They are trained experts in evacuating civilians and will take all the necessary precautions to keep you safe. Do not call other friends or family to help – it will only put them in danger. Call the SES for non-life-threatening emergency situations, but if your life or someone else's is at risk, call Triple Zero immediately.
SES – 132 500
Triple Zero – 000
If you're experiencing financial distress
The financial fallout from a disaster can be the long comet's tail that follows on from the initial shock. There is a wide-reaching matrix of financial aid available from the Queensland Government that will change depending on where you are, what's happened, and who you're supporting.
This can include the Emergency Relief Program which provides financial and/or material support to Queenslanders in financial crisis. For example, food vouchers, food parcels and third-party payments for vulnerable Queenslanders. It aims to prevent future financial crisis by referring people to appropriate financial and social support services
To find out more, or to apply, head to the Emergency Relief Program website.
To chat it through with someone over the phone, call the Community Recovery Hotline on 1800 173 349.
The Good Shephard Money Ready Toolkit provides Queenslanders with information and tools on preparing, responding and recovering from natural and human-made disasters.
If you need clothing, food, or emergency supplies
There are several services available to help connect you and your family with basic supplies following disaster. Here are the some of the best people you can contact:
GIVIT
GIVIT partners with state and local governments to find out exactly what affected people and communities need. And then those specific needs – furniture, clothing, bottled water, baby supplies - are listed on their website for people to donate to. This is a great first stop to see what actual donations are ready and waiting for you to collect. To access donations, you'll need to first register at QLD Government Assistance.
Visit the GIVIT website for more information.
Red Cross
The Red Cross offers a wide array of services, including the urgent supplies you'll need following a disaster. Last year, they offered a $500 relief grant per household to help with basic needs such as food, clothing or personal items for people whose primary place of residence was affected by the floods.
Visit the Red Cross website or call 1800 RED CROSS (1800 733 276).
Salvation Army
You can always rely on the Salvos. In the 2021 floods, the Salvation Army Emergency Services (SAES) and local corps provided over 40,000 meals and refreshments in more than 20 evacuation centres in the first two weeks of the floods. Undoubtably, there will be a similar setup should Queensland flood again.
Visit the Salvation Army Australia website or call 13 SALVOS (13 72 58)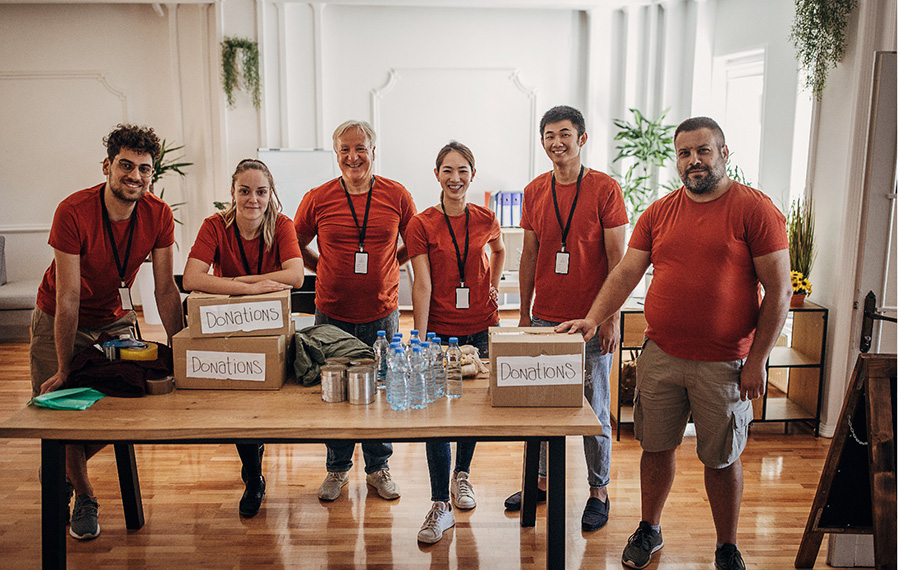 If you need help with your mental or physical health
The fallout from a natural disaster is phenomenal. You will be carrying around significant stress, both mentally and physically – and, in a time where local medical resources are under pressure, it can be hard to know where to turn.
The Queensland Government provides information on mental health services and about physical health and wellbeing during a disaster
If you've lost your car
One of the more common losses following flooding is loss of or damage to, vehicles. And, in the weeks that follow with clean-up and community care, you'll be needing help getting around. While your insurance company will be the one to sort you out with a new vehicle, the Queensland Government does have several financial offsets that will help take the pressure off.
These include vehicle registration assistance, such as:
And the replacement of important documents, such as:
Find out more information about transport and motoring assistance.
With the Bureau of Meteorology issuing a forewarning about this summer's potential for increased rainfall and possible flooding, it's important to start preparing now. Keeping this information close to hand, and know that whatever hardship you might encounter, the Queensland Government is here to help during disasters and emergencies.
In the case of a flood, tune into your local emergency radio station for more information. Read more about for to tune in to warnings.