Garden and home refreshed after floods
Published:

29 November 2019 10:27AM
Date: 05/12/2020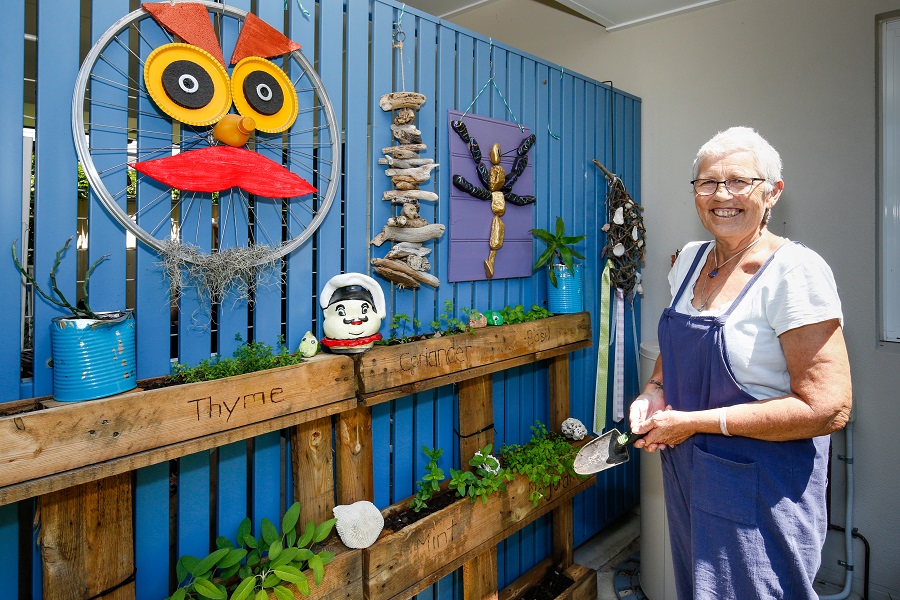 For Townsville public housing tenant, Sue, the 2019 floods saw her lose everything in her home and left her garden in ruins.
"It was very disheartening, we had a metre of water and I lost everything," said Sue.
Within 9 weeks, Sue was back in her home and pleased with the results.
"It only took 9 weeks to be totally finished and move back in. The housing recovery team were just brilliant, and I was very grateful for the work they did to get me back in my home so quickly."
"The kitchen looks better than when I first moved in, I love it here," said Sue.
Gardening has always been a part of Sue's life and when she moved back in, she recreated her garden, making it bigger and better, using old pallets to house her herbs and vegetables.
I've always had a garden and I was blessed when I got this place. My garden is my lifeline and means everything to me.
I like to grow stuff to look pretty and to eat. I'm growing parsley, mint, chives, garlic, sweet potato, strawberries, beetroot and much more.
"My garden is not finished yet and I keep heading to the shops to get more plants," said Sue.
Sue is a participant in the 2019 My Home Awards and says that the competition gives you a purpose in your garden.
"I love gardening because it gets you outside in the sunshine and the fresh air, it's much better than sitting inside all day," said Sue.
For Sue, her home and garden mean safety, security and sanity.
"I like where I live because it's a quiet area, with friendly neighbours, close to transport and everything I need."
"I have a cat named Freya and she loves living here too," said Sue.