Graduate story—Momoka
Last updated:

13 October 2022 11:14AM

First published:

27 August 2021 3:32PM
Date: 03/06/2023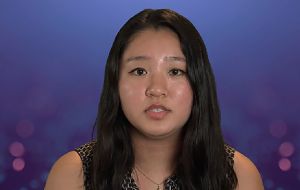 Momoka is using her digital skills to help improve the lives of other Queenslanders.
After being raised by parents who both worked in the ICT sector, Momoka considered a range of different careers.
"I thought about biomedical science, data analytics and law, before choosing to study a Bachelor in IT," Momoka said.
"The degree included a focus on human computer interaction which helped me develop my user experience (UX) design and engagement skills.
"It allows me to help people adopt and use digital technology to improve their lives, by communicating with them to understand their needs."
Momoka applied for the Digital and ICT Graduate Program as it offered her an opportunity to develop a career in the Queensland Government and work on projects that directly benefit Queenslanders.
"The range of career opportunities and different projects and roles open to someone in government means it's a great way for a graduate to determine their career path," Momoka said.
"I was placed with the Department of Justice and Attorney General and got to work on a joint project between them and other criminal justice agencies, which was a huge learning opportunity.
"One of the biggest benefits of learning digital and ICT skills is they can be used in almost any role."
The Digital and ICT Graduate Program is a two-year program, run by the Queensland Government, that enables graduates to gain experience and forge a digital career. It links participants to training and mentors, which provided Momoka an insight into how government works.
"It really helped me to develop an understanding of myself and the different career opportunities," Momoka said.
"Networking with other graduates is also really valuable and we often discuss our roles, departments, and the projects we're working on, which helps improve our knowledge of government and identify career opportunities.
"I've had experience in a range of different digital and ICT roles including business analyst, policy officer and project officer, and my background in design and UX was useful in each role.
"I finish my graduate position in February 2022, and hope to continue working in an analyst, project or policy role, that will allow me to use my digital and business analysis skills to continue helping people."
The Digital and ICT Graduate Program is helping to ensure Queensland has a thriving digital and ICT workforce to enable government and industry to benefit from a strong digital economy.
Learn more about the Queensland Government Digital and ICT Graduate Program qld.gov.au/digitalictgraduate
Hear what some of the graduates have to say about the graduate program, digital careers and skills.