Lions' new home roars into reality
Published:

23 January 2020 12:40PM
Date: 04/12/2020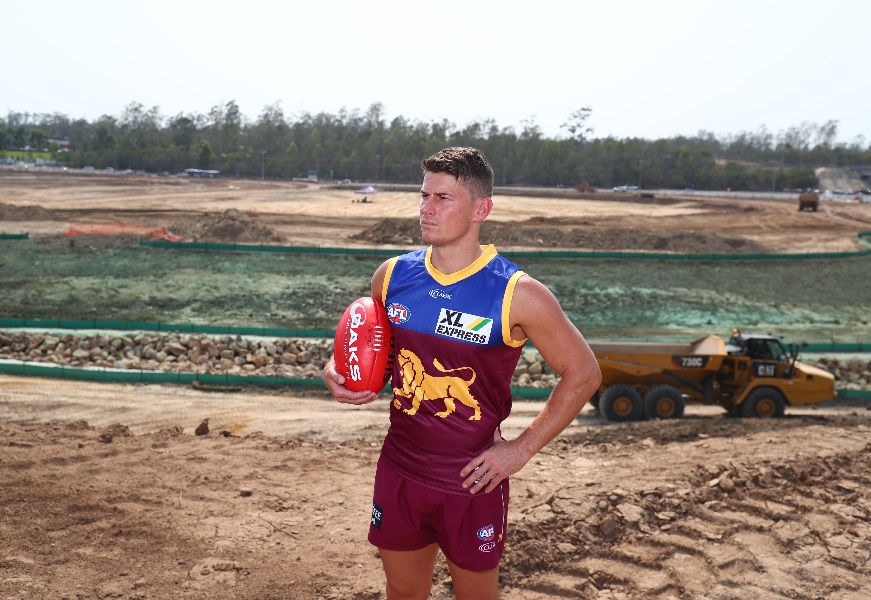 It may look like a patch of dirt now, but just the sight of earthworks at The Reserve Community Arena at Springfield has Lions Captain Dayne Zorko brimming with anticipation.
"I've been at the club now for nine years and there's been a lot of talk about this facility being built, but to actually stand here today and see the ground being levelled, it's super exciting and I can't wait for it to be built," Dayne said.
The facility will be a game-changer for the Brisbane Lions, providing a home ground for the AFLW team and a training base for the men's team, as well as hosting junior football clinics, the NEAFL and AFL community games.
"It gives us a really strong home and a place that we can come to, we can train, we can do everything here and obviously we will still play our games at the Gabba," he said.
The new $70 million AFL complex is designed to provide equal facilities for both the men's and women's teams including a state-of-the-art indoor 50m by 35m training field, recovery pools and a large gymnasium.
Brisbane Lions AFLW midfielder Ally Anderson is looking forward to having a permanent new 10,000 seat home ground in time for the start of the 2021 season.
"It's really exciting to call one place our home," Ally said.
"Just having that sort of stability and just knowing that when we come here this is our home and this is our ground."
Lions CEO Greg Swann said it was a proud day for the Club with the first stage of The Arena nearly complete.
"This project means we can stage AFLW matches in a manner expected by our Queensland supporters as well as improve development pathways for junior footballers across southern Queensland," he said.
Earthworks will be finished in January 2020 with construction scheduled to start in March.
The Reserve Community Arena is jointly funded by the Queensland and Federal Governments, Ipswich City Council, AFL and Brisbane Lions.Read more about The Reserve Community Arena.