More than a room and a key
Published:

21 April 2021 3:03PM
Date: 03/06/2023
With over twenty years' experience running two accredited residential services, Pat has developed a formula that ensures he has a waiting list for rooms at the Irish Inn.
"I offer a nice, clean, carpeted room that includes a fridge, television, clean mattress and sheets. The kitchen and bathrooms are clean," Pat says.
"I wouldn't rent a room that I wouldn't sleep in. But, it's not just a room and a key. It's about listening to people."
"I am approachable. The tenants know to come to me with their problems".
Accredited residential services like the Irish Inn, provide an important accommodation option for people with a range of different housing needs, including some of Queensland's most vulnerable. This includes people who need a safe place to get their lives back on track.
Pat knows that good relationships with specialist homelessness providers are just as important as the relationship with tenants and help to ensure that he maintains a positive home environment for all tenants.
"I never give rooms over the phone. I insist both tenants and referral agents come and meet me," Pat said.
"I have at least half a dozen service providers who ring me up for rooms and I know that I can call them if something goes wrong.
"I will take someone out of jail, but I want the support worker to recommend the person to me."
Over the years, Pat has had to deal with tricky situations, but his people skills have got him through.
"I had a guy who came out of jail on Wednesday and he was freaking out by Friday afternoon," Pat said.
"I said to him you've been in jail for 20 years and the world has changed. If you stuff up on the weekend you will be back in jail again.
"He needed someone to talk to and help calm him down. I also came back to see him on Saturday to check on him.
"Within a couple of months, he got a job, his own place, and a girlfriend".
While this tenant was able to move on to his own place, Pat has many long-term tenants and says that the key to his success is mutual respect.
"I treat the tenants with dignity. This is their home."
Accredited residential services provide accommodation for four or more people and residents may share facilities such as a bathroom or kitchen. Some services also provide residents with food or a personal care service as part of their accommodation agreement.
Find out more about residential services in Queensland.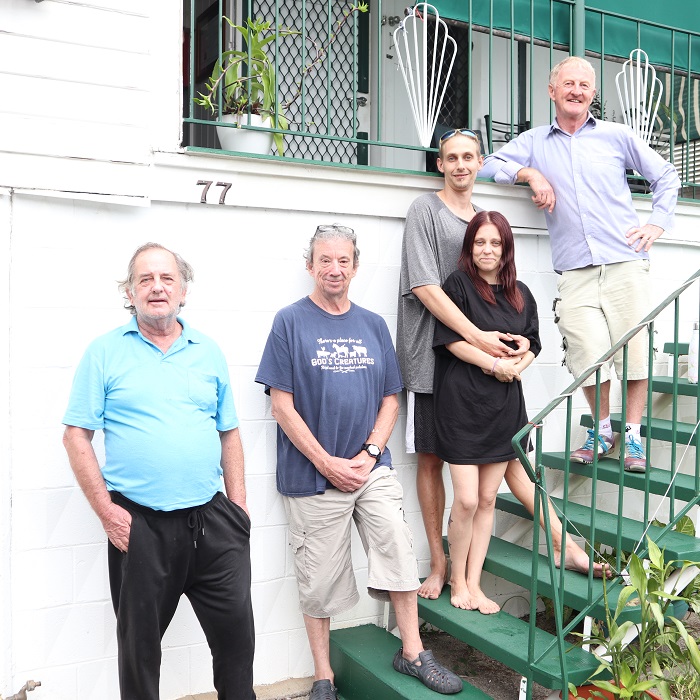 Operator of the Irish Inn, Pat with residents