New pathways
Last updated:

19 April 2022 3:03PM

First published:

19 April 2022 12:50PM
Date: 03/06/2023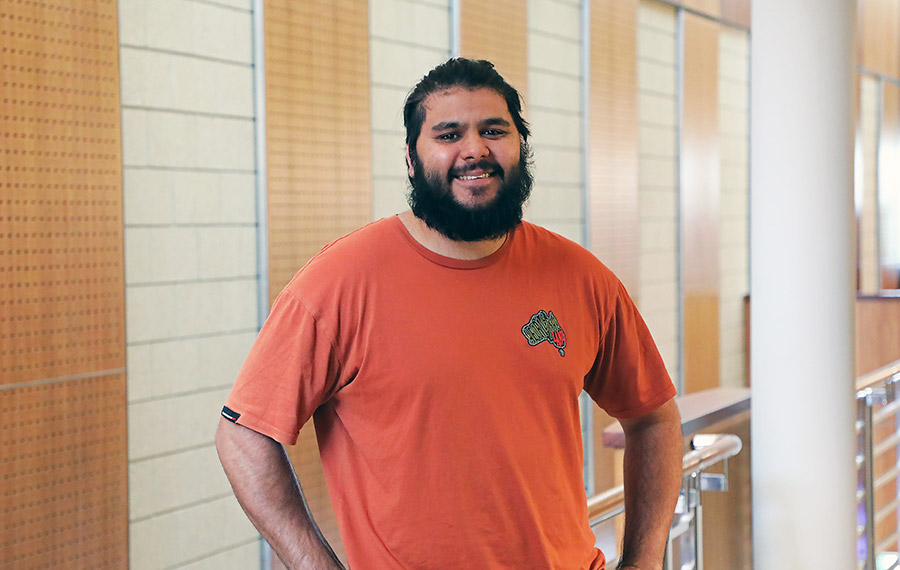 From music creator to IT trainee, William is connecting with new opportunities through a traineeship at the Queensland State Archives.
"I never thought of working in IT before, but my cousin saw the traineeship advertised and sent it to me. When I read the ad, I thought it sounded interesting and a lot of fun, so I decided to apply for it."
William started his traineeship in 2021. The program provides on-the-job training and experience for young Aboriginal and Torres Strait Islander peoples, as well as flexible hours and leave—just like any full-time position.
"At the moment, I provide support for the reading room terminals, which is where members of the public look up old records. I make sure they're running every day, do updates on the system, and support the digitisation of old records."
William's work is not only technical, but people oriented.
"If there are issues with the computers then I go and help the team, diagnose the problem and try and fix it. At the moment I'm helping to roll out new computers to staff and install new software."
Before the traineeship, William tried other jobs but they weren't right for him. He wanted a full-time job that would still allow him to concentrate on creating music during the evenings and on weekends.
So far the traineeship has opened up many opportunities for William, including mentoring and discovering more about himself.
"I am a lot better at time management than I thought I was! But the thing that surprised me was the support. I've never had this kind of support in a job before. My supervisor and my big boss are great to work with. This is the best job I've ever had."
As part of the traineeship, William gets leave each week to study for his modules, and each completed module is a step toward finishing a nationally-accredited Certificate 3.
William has some great advice for other young people thinking of doing a traineeship.
"Don't be limited by what you know. Keep your mind open and keep looking because there is always something you'll find interesting, and this could be a really great move for you."
Our group training provider is now recruiting for a range of Aboriginal and Torres Strait Islander traineeships in business administration, community services and information, digital media and technology.