Traineeship a kick-start for new career path
Last updated:

19 April 2022 3:02PM

First published:

19 April 2022 12:50PM
Date: 03/06/2023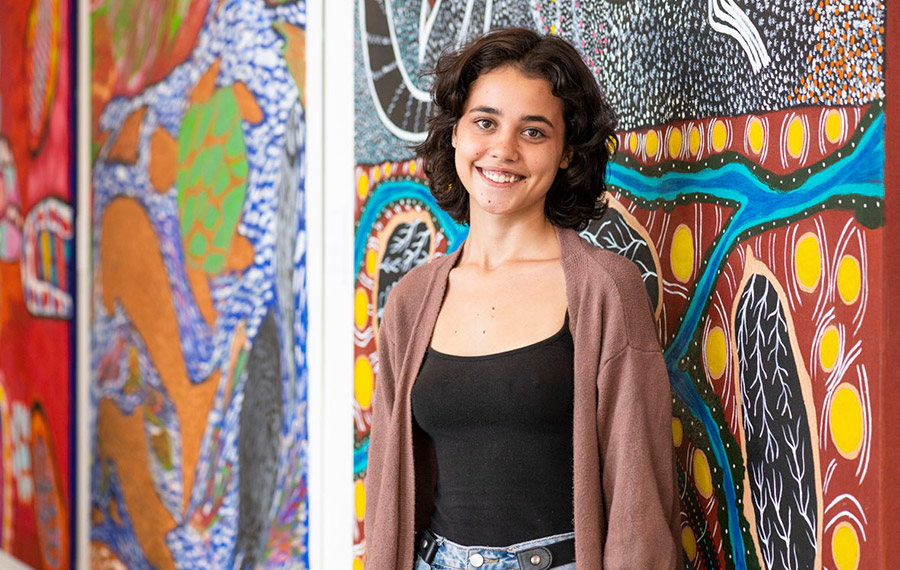 "My traineeship is great. I've really enjoyed being part of high-level conversations, and working directly with senior leaders, Traditional Owners and artists. It's such a big contrast to my previous job in hospitality."
Akala is a young First Nations person accelerating her career through a business administration traineeship with Arts Queensland in Cairns—part of the Department of Communities, Housing and Digital Economy.
She started her traineeship when she was unsure what she wanted to do, but now she has a plan.
"I want to go to uni and study ecology. This traineeship will help me to get an admin job where I can work part time and support myself while I study my degree."
Aboriginal and Torres Strait Islander traineeships provide young First Nations peoples with training, mentoring, paid work experience and a Certificate 3 qualification. They kick-start careers and provide solid work skills.
"I've learnt how to build networks and how important they are. My supervisor teaches me so much, like how to use Microsoft Excel, how to do record keeping, and has introduced me to cultural engagement and awareness training which has changed my outlook on things. She also just helps me out with any kind of office duties."
"She also supplied me with equipment to study and work, is flexible with the hours I do at TAFE, and gives me leave to study. The support is really helpful."
Through her traineeship, Akala has realised her love for the natural environment could transform into a fulfilling career one day.
"I want to pursue a research career in ecology and learn more about relationships between living organisms and the environment we live in because I love nature."
"There's a lot in Australia that has to do about Indigenous stories and the Dreamtime and I think of that every time I see the environment. It just gives me a different perspective."
Our group training provider is now recruiting for a range of Aboriginal and Torres Strait Islander traineeships in business administration, community services and information, digital media and technology.