Density Diversity Done Well Competition
Date: 21/03/2023

The purpose of the Density and Diversity Done Well competition was to:
explore what might be called "the missing middle"
propose new housing options for Queensland that meet contemporary community, urban and environmental challenges
provoke thought about possible solutions to these challenges.
The 'missing middle' is a term used to describe dwellings between high-rise, high-density living and free standing, suburban family homes. Queensland has traditionally been reluctant to explore and widely implement.
The ideas competition was a joint initiative of the Queensland Government and the Urban Development Institute of Australia Queensland. The competition was officially endorsed by the Australian Institute of Architects and the Planning Institute of Australia and supported by the Australian Institute of Landscape Architects and the Urban Design Alliance Queensland.
It was open to multidisciplinary teams that included architects, building designers, planners, landscape architects and urban designers, and attracted 100 submissions from across Australia.
The challenge posed to competitors
The challenge was simple: be a good neighbour and create a good neighbourhood.
Each designer:
started with a typical neighbourhood block containing 20 dwellings that housed around 60 people in total (3 occupants per house on average)
could choose to retain, raise, move or demolish the existing dwelling or dwellings, and determine building setbacks, parking and open space requirements
was encouraged to 'break the rules' and think outside the box.
The winning entries cover a wide variety of building types from micro-housing through to compact apartments. They clearly demonstrate the 'missing middle's huge potential for both variety and capacity to house more people in the same place with good amenity.
The jury
The competition jury comprised of s6 members:
Mr Malcolm Middleton, (Chair) Queensland Government Architect
Ms Marina Vit, Chief Executive Officer, Urban Development Institute of Australia Queensland (UDIA Qld)
Professor Brit Andresen, Representing the AIA (Queensland Chapter)
Mr John Byrne, Representing the PIA (Queensland Chapter)
Ms Kerry Riethmuller, Executive Director, Regional and Spatial Planning, Department of Infrastructure, Local Government and Planning
Dr Malcolm Holz, Acting Director, Innovation and Futures Unit, Economic Development Queensland (EDQ), Department of Infrastructure, Local Government and Planning.
The prize
A $50,000 prize pool with up to 10 winners was available.
The winners below each received $7,000. The student winner received $1,000.
The winners – built environment professionals
Rebecca Champney, Nettleton Tribe (QLD)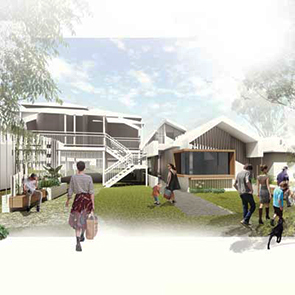 Linear Landscape House
My 'thin' idea creates meaningful front and back yard spaces, a shared street room and a space for social outdoor activities.
Increases the number of dwellings on the neighbourhood block from 20 to 40.
View the Linear Landscape House plans (PDF, 7.6MB)
Jury comments: Sensitive, side boundary infill
This proposes a well-crafted, low-scale intervention into an existing neighbourhood. The idea centres on the creation of a narrow house that re-purposes an often unloved, underutilised and contested 'leftover' space between the side boundary and an existing house.
It creates a series of small building footprints within this side boundary space that could also accommodate a flexible studio space, granny flat and home offices as a separate freestanding extension to the existing house.
Critically, this new two-storey dwelling preserves and connects front and rear garden spaces. This nuanced side boundary response avoids a 'build to boundary' blank wall while maximising light, ventilation and privacy.
TRIAS (NSW)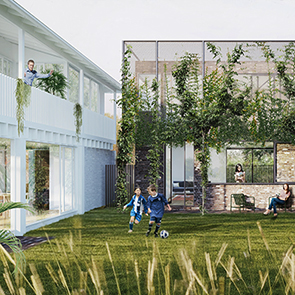 Dappled dwellings
This approach encourages neighbourly interaction. It allows work to proceed affordably and organically, without excessive capital cost and unnecessary demolition.
Increases the number of dwellings on the neighbourhood block from 20 to 52.
View the Dappled dwellings plans (PDF, 9.5MB)
Jury comments: Building under and behind
This is a deceptively simple, compact and affordable idea that retains and builds under the existing house while placing two micro-dwellings out the back. It demonstrates what is possible when people, not cars are invited into backyards.
The grouping of micro homes clustered around a central courtyard space lends itself to co-housing or intergenerational family situations, particularly where facilities such as laundries, sheds, and spaces for cars and vegetable gardens are shared and valued over privacy between dwellings.
This low-key approach also allows for incremental change and a simple financing model, particularly for owner-occupiers.
Arcologic Design (WA)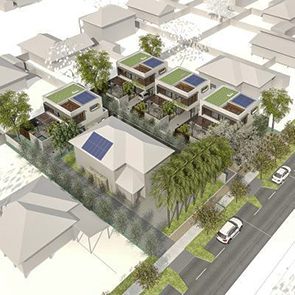 Eco-nesting
My idea is about small footprint, carbon neutral and energy efficient living, which unlocks the value in our own backyards.
Increases the number of dwellings on the neighbourhood block from 20 to 70.
View the Eco-nesting plans (PDF, 4.4MB)
Jury comments: Laneway eco pavilions
This idea creates a series of contemporary and compact laneway pavilions that utilise lightweight modular construction. The jury was impressed with the attention to detail and incorporation of a range of energy and water efficient ideas, as well as flexible floor plan arrangements providing a choice in intergenerational and live-work opportunities.
The self-contained nature of each pavilion, including the retention of off-street carparking, makes this an attractive model for 'downsizers' who want freehold, villa-style living.
The freestanding nature of each pavilion allows each building to capture light and breezes on all four sides – important in our subtropical and tropical environments.
This approach also provides the possibility for sub-staging and incremental take up that is not often an option with other higher density housing types.
Kali Marnane and Tess Martin (QLD)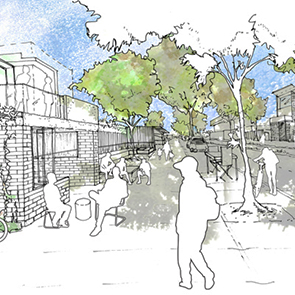 Paired Twin House
The typical Queensland Street is oversized and car dominated. I want to create a place to pause, chat to a neighbour or have a cup of tea while observing new life on the street.
Increases number of dwellings on the neighbourhood block from 20 to 80.
View the Paired Twin House plans (PDF, 4.4MB)
Jury comments: Rethinking the shop-house
This idea accommodates up to four dwellings on a typical block by building within the area traditionally used as the front boundary setback and in areas free of mature trees.
In this scheme, the front gardens are replaced by buildings that offer a street presence to studios, workshops or home offices.
Taking a cue from the traditional shop-house this scheme includes studio apartments above these work-spaces.
Bligh Graham Architects (QLD)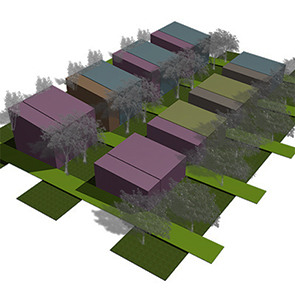 Woven Places
Our idea fulfils the requirement for achievable and affordable solutions, with minor disruption, great variety and flexibility all on a 600sqm block.
Increases the number of dwellings on the neighbourhood block from 20 to 80.
View the Woven Places plans (PDF, 9.4MB)
Jury comments: Tropical Courtyard Housing
The demolition of a post-war house and the subsequent subdivision into two smaller lots is a common sight in many suburbs. Seemingly overnight large project homes soon consume these sites, offering little in the way of amenity and open space.
By carefully arranging two asymmetrical duplexes on the site, this highly resolved proposal achieves a scheme of equal density but in a far more design and climatic responsive way.
The jury considered this a flexible and deceptively high increase in density. The concept does require some repositioning of the traditional access patterns. Choosing to accommodate cars on the periphery of the site has allowed the design to focus on fine grain pedestrian circulation from the street to the front door.
Gresley Abas Architects (WA)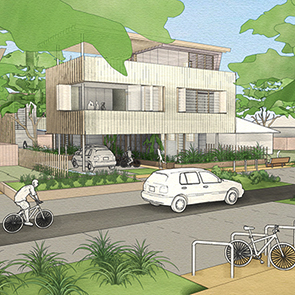 Inter-Urban Diver-City
With a range of shared amenities, this large house retains the 'luxuries' of traditional suburbia: the backyard, the shed and a generous covered outdoor BBQ area.
Increases the number of dwellings on the neighbourhood block from 20 to 100.
View the Inter-Urban Diver-City plans (PDF, 2.2MB)
Jury comments: The new six pack
This idea reimagines the suburban McMansion as a private community of 4-6 dwellings of differing size and type, including a communally owned bedsit for visiting family and friends and car-sharing arrangements. The concept also challenges the traditional scale and function of the street by proposing car and community spaces through the reduction of traffic lanes and asphalt.
The concept merges three sometimes-maligned housing forms – the six pack, the McMansion and the share-house – into a new flexible built form that offers a place to live for singles, couples, small young families, established families and empty-nesters.
The jury saw great potential for this model to house the young and the young at heart, particularly elderly people or people with a disability who wish to live in a contemporary, non-institutional community-style setting.
Cox Architecture (QLD)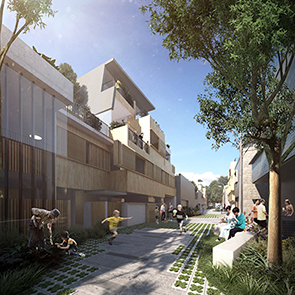 Laneway Tower-housing
Our design looks to the under-utilised backyard and the creation of a new subtropical laneway.
Increases the number of dwellings on the neighbourhood block from 20 to 100.
View the Laneway Tower-housing plans (PDF, 9.4MB)
Jury comments: New subtropical laneway
An urbane and compact apartment that builds on the traditions of the 'six pack'. This is a higher density solution that proposes an integrated access space and allows for the build-up of density over time.
This scheme cleverly deals with car parking and the building form in a narrow space. The building height increases towards the centre of the block and to the laneway thereby reducing overshadowing and overlooking often associated with these types of incremental infill.
Innovative car parking utilising half basements concealed in the overall building form delivers the potential for higher density without full basement construction.
The winner – built environment student (student or graduate architect)
Mani Saham, University of Art, Tehran (now residing in the NT)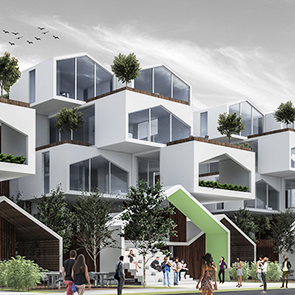 Live-work units in courtyard apartments.
Increases the number of dwellings on the neighbourhood block from 20 to 40.
View the Live-work units plans (PDF, 8.3MB)
Jury comments:
An energetic and enthusiastic collection of ideas that creates a strong urban pattern radically at odds with the traditional high density offering. This scheme builds on the idea of the gable and skilfully integrates this with contemporary green roof terraces and new forms of living.
A strong connection to the streetscape is promoted through the design with areas for social interaction located on the traditional front setback and footpath areas.
Commendations
Urbis (Qld) for 'Urban Pixels'
Sprout Architects (Qld) for 'Side House Project'
Anna O'Gorman Architect (Qld) for 'Links and Thresholds'
Arkhefield with Urbis (Qld) for 'Retrofix'
Last updated:

29 November 2019