2023 Minister's Award for Urban Design
Date: 29/11/2023
Winner
Project: Brisbane South State Secondary College
Location: Brisbane
Team: BVN with the Department of Education
The jury congratulates the Department of Education and its consultants for the impeccable design work undertaken for the Brisbane South State Secondary College - Brisbane's latest vertical campus.
Inspired by local place, character, and form and sited on a gentle ridge historically used for camping, weaving and the making of tools by the local First Nations people, Brisbane South State Secondary College (BSSSC) offers a contemporary, leading-edge vertical education facility connected to a contemporary knowledge network and the country it is bound to – a clear demonstration of design and pedagogy leadership in a Queensland context
Designed in a skilful yet sympathetic way, given its civic purpose as a school, BSSSC is considered an important benchmark in its quality, vision and clarity in an emerging typology of vertical campus design. The Jury congratulates the design team in crafting an architectural language derived from the First Nations heritage of the site and incorporating these cues in the materiality of the design.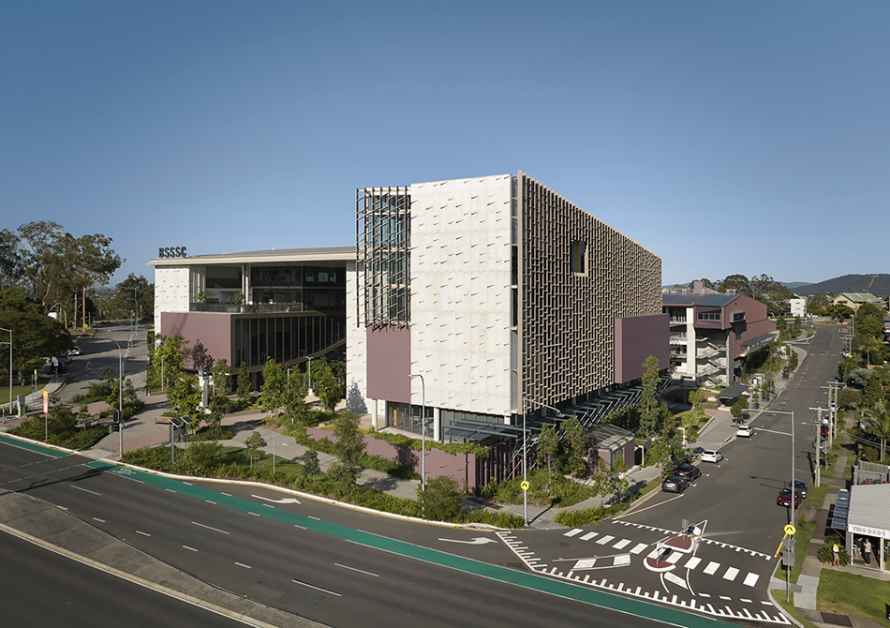 Image Credit: Tom Roe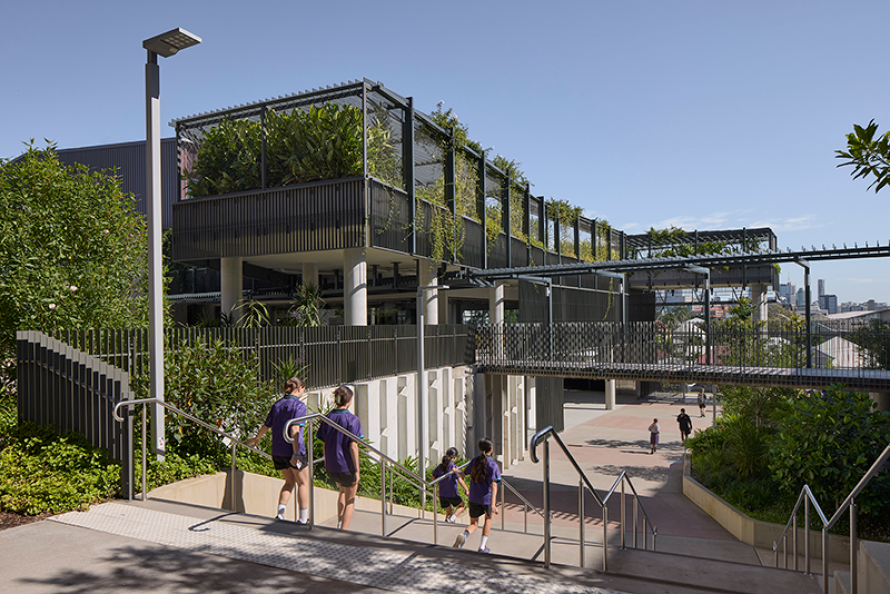 Image Credit: Tom Roe
Commendation
Project: Logan Village Green Revitalisation
Location: Logan Village, Logan
Team: Logan City Council, TLCC, Bligh Tanner, Fleetwood Urban, Convic and Dot Dash
Logan Village Green has successfully created and transformed an underutilised community asset into a thriving community hub, seamlessly blending active community uses, with heritage assets. The Green's thoughtful design caters for a range of needs and age groups, offering diverse and varied spaces for a number of activity profiles.
The project's well-considered and flexible layout is the result of an iterative design process and illustrates that the project has been curated with the needs of the current and evolving community in mind. The thoughtful selection of materials and separation of spaces provides an attractive precinct, which is deeply connected with the needs of the community. The integration of this community asset with the Logan Rail Trail offers a responsive, activated and connected space.
The jury applauds Logan City Council's delivery of an identifiable and beating heart for Logan Village, which creates a much-needed destination.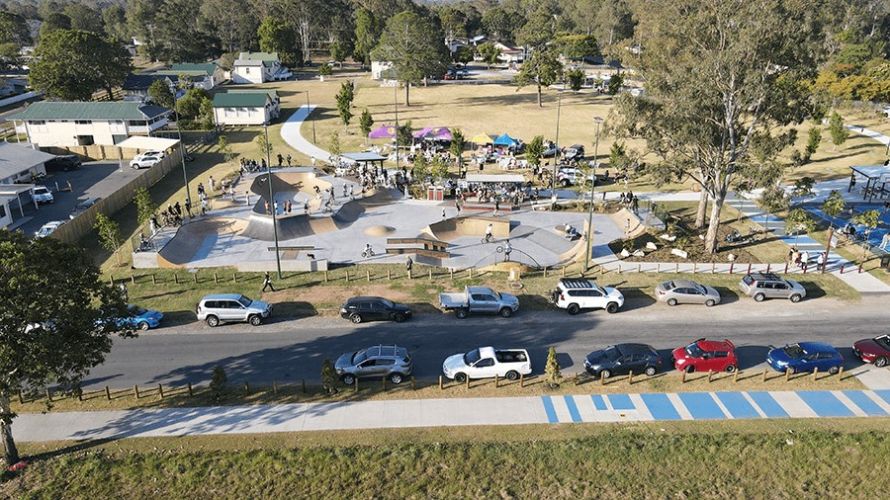 Image Credit: Mark Honeysett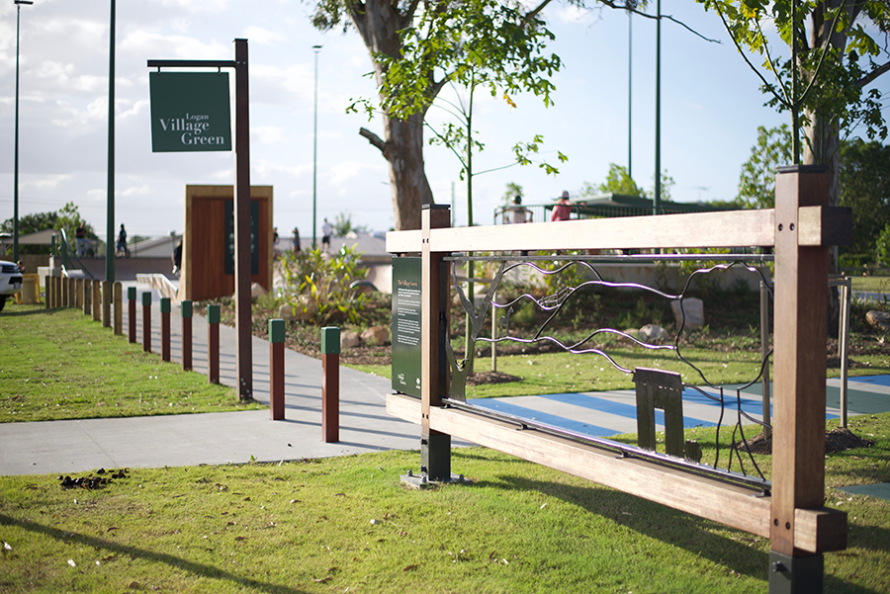 Image Credit: Alexis Turner
Commendation
Project: Fifth Lane Revitalisation
Location: Mackay
Team: Mackay Regional Council
The Fifth Lane Revitalisation Project is an authentic repurposing of a previously unsafe, rear service lane in the growing regional city of Mackay into a 24/7 outdoor art gallery, featuring over 43 mixed medium artworks, new surface treatments, festoon lighting, upgraded infrastructure, and integrated augmented reality technology. Fifth Lane's beautification illustrates how an underutilised space can be repurposed for the provision of high-quality public realm, while also celebrating the talents of artists from both the local community and across Australia.
Fifth Lane – once a hive of antisocial activity – is now a colourful community asset that invites the interaction of all ages and serves as a key destination for the Mackay City Centre, proudly earning the title of Australia's Best Street Art Laneway bestowed by the Australian Street Art Awards.
The Mackay Regional Council should be congratulated for its innovation, community-led, collaborative placemaking, facilitated by the introduction of grants and streamlined permitting processes. Not only is the Mackay City Centre now linked by this valuable new pedestrian connection but thriving community connection and placemaking activation offer an even greater value.
Fifth Lane has successfully demonstrated and promoted the benefit of placemaking to the wider Mackay community, and now far beyond. The fusion of utility and beauty demonstrates the benefits of art, design, and community in turning space into place, and the eagerness with which the businesses, landlords, tenants, and citizens have taken ownership of the concept is a testament to the valuable lessons learned through this loveable laneway revitalisation project.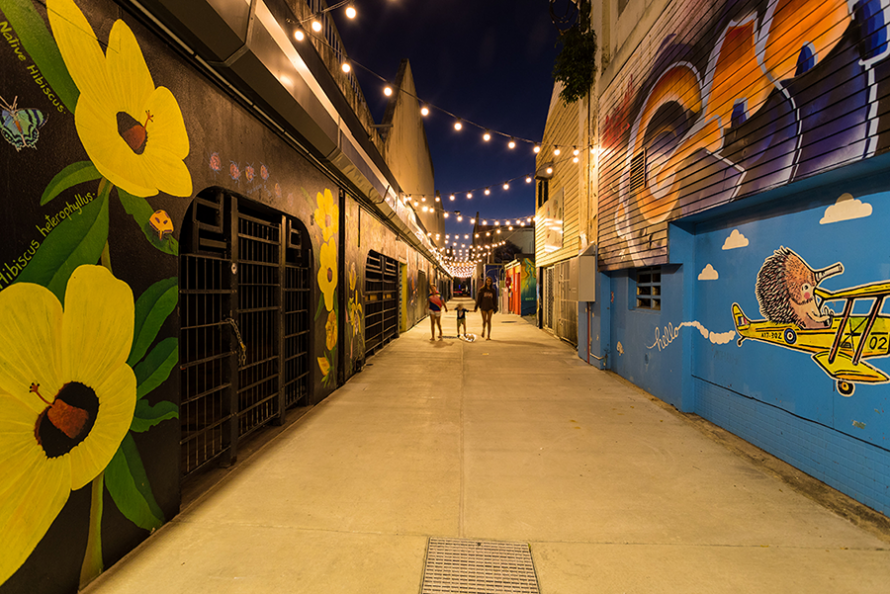 Image Credit: Mackay Regional Council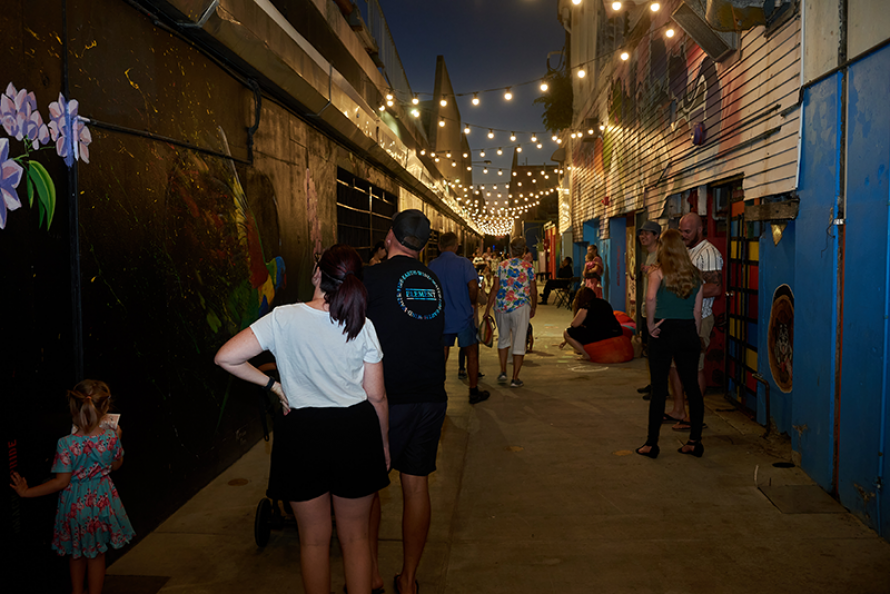 Image Credit: Mackay Regional Council
Commendation
Project: Student Central - The University of Queensland
Location: The University of Queensland, St Lucia Campus
Team: Hassell with the University of Queensland
The jury is delighted to commend Hassell's design of UQ Student Central. The space invites students to connect with the University's support services in a welcoming and calming environment and founds a new, central campus precinct. The 'service counter' function can now sit in a lush outdoor space, signifying that the administration is coming out into the campus to engage with its students in an open, relaxed way. The flexibility of the space provides a future proof facility for informal gathering. The subtropical garden and verandah express the local vernacular while the gold finishes add a touch of playful glamour.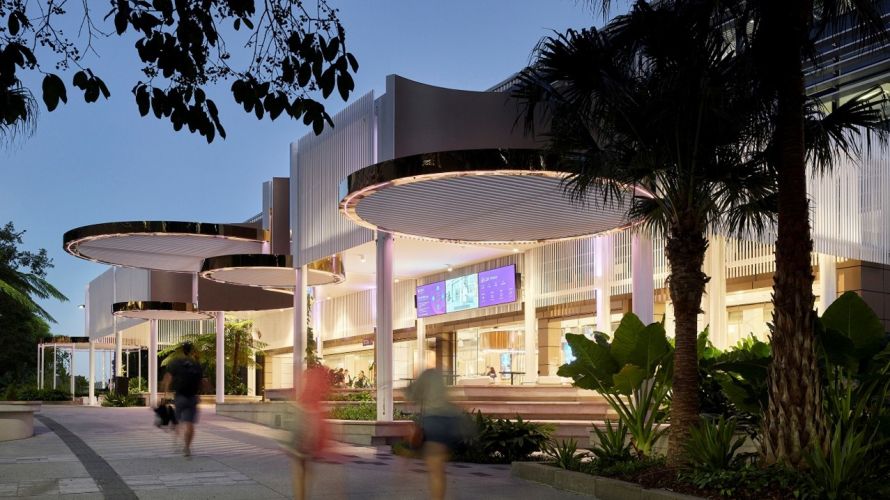 Image Credit: Scott Burrows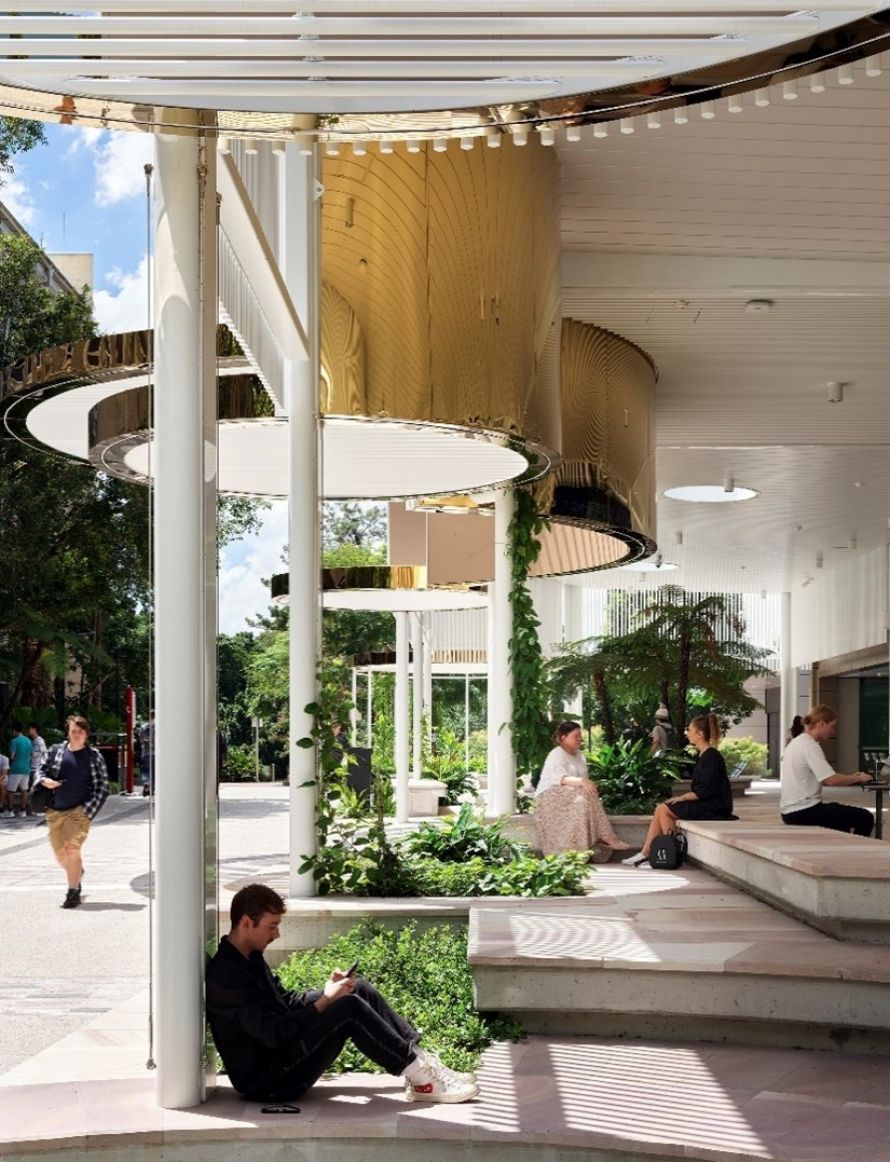 Image Credit: Scott Burrows
Additionally, the jury recognised the following projects for their vision:
Ipswich Central Revitalisation – The Ipswich Central Revitalisation is a project about process and outcome with community at its centre. Exploring innovative strategies and bringing different modes of delivery for community led projects, this project has, and will continue to, impact the urban fabric of Ipswich Central. Its strength lies in the tangible relationships different Council departments have been able to forge with each other and the community, a piece long missing from the City. We congratulate Vee Design, Fourfold Studio and Urban Enquiry for being an integral part of Ipswich's self-determined future.
Your Home and Living Guidelines – Moreton Bay Regional Council – These guidelines developed by Moreton Bay Regional Council provides practical ideas and examples to residents and is a valuable resource to achieve climate responsive design. Council have managed to translate technical information into clear and helpful guidance on flood resilience, waste management, building codes and landscaping and is a testament to the Council's commitment to sustainable practices. The 'Your Home Living Guidelines' was highly commended by the jury, who hope to see these guidelines further shape the next planning scheme for Moreton Bay.
The jury encourages entrants to consider resubmitting unbuilt projects in forward years, when they are substantially complete.
Previous Minister's Award for Urban Design Winners
Last updated:

30 August 2023